8-2023 TECHNICAL SPECIALIST - TECHNOLOGY SOLUTIONS SPECIALIZATION: WATER TREATMENT, CENTRAL HOT WATER, HVAC (SALARY UP TO $1800+)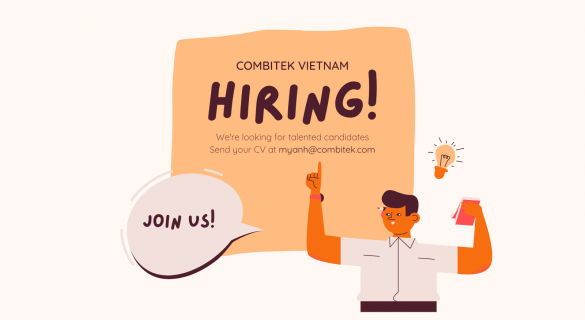 Benefits FOR YOU
Total income: Up to $1,800..., details as follows:
Basic salary: Up to $1,200; 13th-month salary.
Annual salary increment based on performance.
Bonus based on the company's overall sales performance.
Allowances: Lunch, transportation, phone, business trips...
Benefits: Social insurance, health insurance, annual travel, teambuilding activities.
Opportunities for advanced training and skill enhancement in Germany and Italy.
JOB DESCRIPTION
Benefits FOR YOU
Work schedule: 5 days/week (Saturday and Sunday off).
Paid holidays and public holidays: Approximately 30 days/year.
DEVELOPMENT OPPORTUNITIES
Weekly internal training for continuous capacity improvement.
Opportunities to visit and train in Germany and Italy.
Opportunities for career advancement to the Head of Technical Department in a friendly and professional environment.
JOB DESCRIPTION
Communicate with partners and manufacturers in English to clarify customer requirements; Understand English documents from manufacturers to answer queries during solution consulting and technology product discussion.
Provide advice, analysis, and design advanced technology solutions for water treatment, central hot water systems, and HVAC systems for customers.
Support and coordinate with the Sales Department to develop design plans, technology presentations, and product proposals with investors, design consultants, contractors...
Plan and implement projects, ensuring progress and quality according to the requirements from the Sales Department and customers.
Support, supervise, and guide technical and sales team members in the implementation and design of technology solutions.
REQUIREMENTS For the Job
Graduated from university with a major in Engineering, Water Supply and Drainage, heating devision, HVAC, Environmental Technology, or related fields from University of Technology, Civil Engineering, Architecture or reputable universities.
At least 3 years of experience in design in the field of water treatment, central hot water systems, HVAC, or related technology fields.
Proficient in English (listening, speaking, reading, writing), AutoCAD 2D/3D, preference given to candidates using Revit software.
Solid understanding of standards, regulations, and regulations pertaining to water supply and drainage systems, heating systems.
Planning, analytical, and problem-solving abilities as well ability able to operate alone and in teams.
Dynamic, innovative, willing to learn, meticulous in work, and able to operate under pressure, work overtime as needed.
CV application for a job by English, interview by English!
WORK LOCATION: HANOI; NO. OF OPENING: 02.