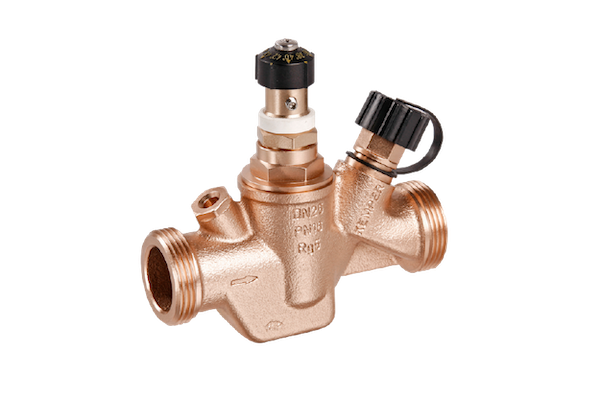 Thermal balance valve - automatic hot water circulation
Automatic thermal balance valve, also known as automatic hot water circulation valve, is used to install on the return line in each room of the central hot water system of commercial centers, resorts and high-class hotels, hospitals. , boarding school, government building,...
Thermal balance valve - automatic hot water circulation
FAQs
What is a thermostatic balancing valve?
Thermostatic Balancing Valve is an important and a popular valve in circulating hot water systems. The valve has the function of balancing the temperature of the flow, thoroughly limiting situations such as too hot water with objects using water at the upstream or too cold water or no water at the downstream locations.
What types of thermostatic valves on the market?
At Combitek, there is a wide range of thermal balance valve such as automatic hot water circulation valve, automatic balancing valve, internal thread automatic thermal balancing valve, etc.
Where can I get a thermostatic valve's price list?
For a quote for thermostatic valve, please contact Combitek Vietnam immediately via hotline 024 3212 7028, Combitek Vietnam is confident to bring your project the most optimal solutions and products.
How does a thermostatic valve work?
Automatic hot water circulation valve works on the principle of expansion and thermal balance, through each cycle of circulation, the water temperature in the return pipe increases gradually, causing the spring to gradually expand, the valve gradually closes until when the minimum flow kvmin is reached, then the valve is in thermal equilibrium. Therefore, the valve must meet the following requirements:
- Accuracy ±1°C
- Thermostat spring does not come into contact with water.
- Automatic sterilization at 70°C without motor
- Integrated branch lock, descaler
- Built-in temperature measuring point
When all axes in the system reach this state after each start of the circulation pump, then we will balance the temperature in the central hot water system.
Combitek Vietnam provides thermal balance valve products from which company?
Combitek Vietnam is a supplier of industrial valves, thermostatic valves imported directly from Caleffi - Italy and Kemper - Germany. When buying at Combitek, you can completely trust the origin of the product as well as warranty and installation issues.
Support